Although reading is unarguably one of the greatest pastimes in the world, we've all had books that, given half the chance we would go back in time and stop ourselves from reading, perhaps because they were a  waste of time, or maybe they have haunted us ever since. Here in reverse order of biggest mistake, are the top six reads that I regret:
6) The Maze Runner Series by James Dashner:
For some reason I persevered with this series way longer than I should have and managed to get half through book 3 before I finally gave up. Perhaps I'm simply too old for this YA story-line, whatever the reason  I just didn't click with it and found the constant lurching from one adrenaline filled disaster to the next frankly exhausting. A little too similar to the Hunger Games for my liking too, I definitely preferred the films.
5)Flowers in the Attic by Virginia Andrews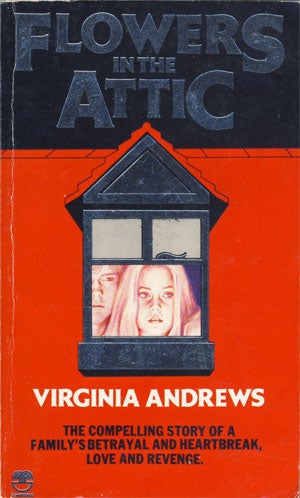 At the time of reading (aged 12 or 13)  I really enjoyed this book, but then went on to read more Virginia Andrews and looking back realise now that they weren't at all suitable for a kid of my age. I don't think my Mum could have known about the story-lines involving incest and rape that I was happily sitting in a corner of the living room reading but hey ho, none of it seems to have scarred me.
4) Paradise Lost by John Milton
Whoooooosh, I'm not ashamed to admit that this one went right over my head! I didn't understand ANY of it when I read it for A-level English and though I'd say I ought to give it another try now I'm actually scared that my brain might melt. Wikipedia describes it as " An epic poem in blank verse by the 17th century poet, John Milton. The first version, published in 1667 consisted of ten books with over ten thousand lines of verse." Nuff said.
3)Any Jack Reacher novel by Lee Childs straight after I've read another one.
This is not to say I don't like Child's stories about hunky good guy Jack Reacher, I do actually really enjoy them, it's just that I overdosed on too many of them one after another and put my self off reading any for a while. I've done exactly the same with cheese and pesto sandwiches.
2)The Little Mermaid by Hans Christian Anderson
Now I know that all kids books can't be about fairies granting wishes and so on but if you've never read this believe me when I say, this book is HARSH. I came to read it with my (admittedly sensitive) younger daughter after having watched the Disney film and man, were we in for a shock! Not to spoil things but basically Ariel after an already traumatic love affair ends up with the choice of killing her true love so that she can turn back into a mermaid or face dying with the rising of the sun. Cheerful stuff or what? To be fair I should have known what we were in for after reading The Snow Queen. On the plus side, the illustrations in the copy we read were beautiful. Perhaps a better read for older children who dislike fish?
1) A Child Called It by Dave Pelzer
I must admit that this is another book on my list that I haven't read to the end because, to put it quite simply I couldn't face it. I have in the past managed to finish "We need to talk about Kevin" and that was horrendous enough, actually I wish I hadn't read that either but this book is all the more heartbreaking because I know that it's a true story. Obviously burying our heads in the sand doesn't help any child in an abusive situation and if Pelzer's book does anything to help then who am I to knock it, but I just haven't the heart to read it.
Please follow and like us: